WS-FTP Pro 7 | Frontpage 2002 | Dreamweaver 4 | MSIE6 | Publisher 2003
Frontpage 2002 configuration with FTP



This support page will walk you through how to setup your Frontpage 2002 to upload your Web pages to our Linux/Unix-based FTP servers. For questions regarding HTML programming or how to make your Web pages with Frontpage 2002, we recommend you to check out the book Microsoft FrontPage 2002 for Dummies (With CD-ROM) by Asha Dornfest. This book is available at Amazon.com. If you have any further questions, please contact our support team.
Setting up your Microsoft Frontpage 2002 to work with FTP



First, please open your Frontpage 2002 application.
If you are connecting with Frontpage 2002 for the first time, please click "Import".
Browse and enter in the directory (folder) on your computer that your Web work is located and click "Next".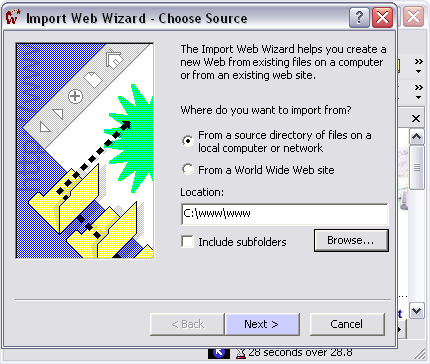 It now will show you list of all the files in that folder, click "Next".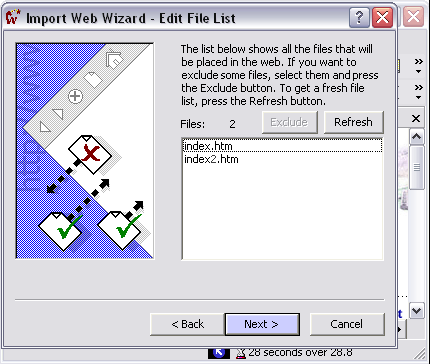 Wow look at that we're done! Click "Finish".
After entering the past settings click "file" and then "Publish Web".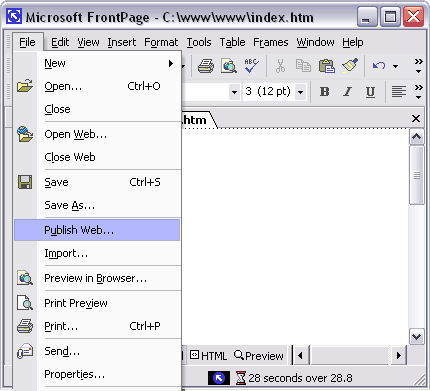 It will then ask where you would like to publish it to. Enter in your full Website name and click "OK". Please remember that your Website name will now become your FTP server name.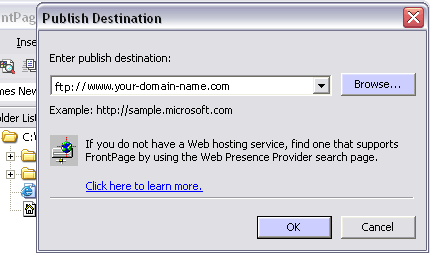 You will finally be asked about your username and password. Please refer to you Final Confirmation email. Your username should look something like "a1234" (a character plus 4 digits) and yuor password should be the same as that you have chosen when you sign up your domain name.