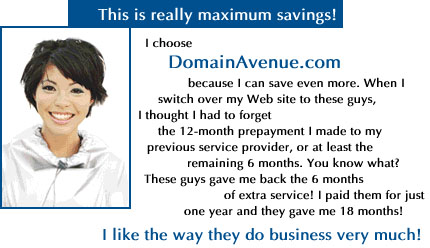 Maximum money saving guarantee



We understand how important it is for our customers to get the most out of their service providers. Therefore, DomainAvenue.com guarantees that if you have prepaid services with another provider but wish to switch over to our services, we will extend our services to cover any unused period with your previous provider.
How does this work



For example, you have previously prepaid hosting services with another service provider and you still have 9 months to go. When you switch your domain over to us for hosting, you pay us USD30 for one year hosting services and we will serve you for 12 + 9 months, that's 21 months in total! So you can make the most out of us!




1. 30Mb virtual web hosting with FTP support
2. 5 POP3 mailboxes (10Mb each)
3. own CGI-BIN Perl 5.8 +PHP5 +SSI
4. MySQL ver 14.12 distribute 5.0
5. password protected directories
6. HTTP-based Realvideo/audio streaming
7. unlimited email addresses with your domain
8. unlimited traffic and hits
9. web-based configuration interface
Switch to our hosting service - pay less for better performance!



When you switch your domain over to DomainAvenue.com, we will be the default authoritative DNS admin for your domain name. If you are running your own mail server or have dedicated internet access, please contact us immediately after you have completed your order. Otherwise, please proceed through the order form below.
No need to be afraid of downtime



DomainAvenue.com understands how important your Web site is. By switching over to us, we guarentee that there would be practially no downtime for your Web site with our "Failsafe hostname" service.