Prices for dedicated server hosting



The way we price our dedicated server hosting packages is such that you can pay just one fixed monthly charge for everything you will need. Hence, you can be sure how much you will have to spend in a year's time.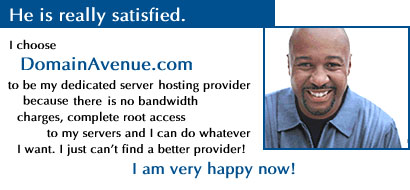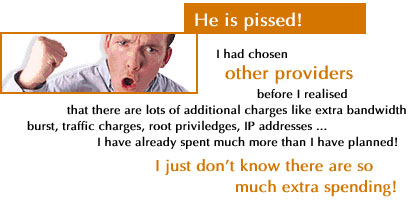 System CPU
RAM
Hard Drive
Interface
IP Addresses
Bandwidth
Security
Price
1. All prices are in U.S. dollars.
2. Prices are from official web sites on 12-Mar-2002.
3. 1-year contract required.
Compare our prices with other providers



The following is a brief comparison of our prices with some of the other major dedicated server hosting providers. Please note that the prices below include the additional charges as listed by the respective providers. If you are looking for other customize settings of dedicated server hosting, please request a quote from us.
Setup
+ Monthly Fee
= Total Annual Fee
Domain Avenue
Hosting.com
NTT/Verio
Set up your own ISP immediately



When you subscribe to our dedicated server package, you will also be eligible for our (1) OEM Name Server service - you will have your own NS1 and NS2 nameservers; (2) OEM SMTP/POP3 Mail service - you will also have your own mailservers - as if you were an independent Internet Service Provider. This is included in the package and is totally FREE of charge.
Dedicated server, dedicated engineer



For an additional monthly charge, you can also get dedicated personnel servicing your servers. You will have direct access to one of our engineer's email-pager address so that you can contact him anytime during the day. This allows you to be able to get almost real-time services for new user or email account creations, new virtual web hosting account setups, instant modifications to firewall policies and customized code-debugging and trouble shooting.
How many Web sites can a server support



Supported by the FREE server services we offer (including nameservers, SMTP and POP3 servers, you can serve as much as over 500 Web sites with just one single Web server!
Standard preinstalled software



DomainAvenue.com's dedicated server Linux distribution - based on Redhat 7, includes kernel 2.4.17, glibc 2.2.4, current patches (as per date of server order), additional software, and security fixes - Apache 1.3.23, OpenSSH 3.0.2p1, OpenSSL 0.9.6c, Perl 5.6.1, QPopper 4.0.3, Sendmail 8.11.6, WU-FTPd 2.6.2.
If you are looking for other customize settings of dedicated server hosting, please request a quote from us.
Related information



Shared Web Hosting | Domain Registration